Check back here for the latest developments
6/5/2023
It takes teamwork to build the new snack cabinet
But it looks nice once it's done. Time to fill it up with kosher snacks!
Slowly but surely, it's all coming together thank G‑d
6/4/2023
Setup for the first Open House, so we had to make sure that the new screen rolls in properly on the rolling stand. Verdict: it does!
Aron Kodesh is in place, still working on a better holder for the page number sign that's currently on top.
5/31/2023
A marble top coffee table, mini fridge, coffee machine- the Lounge is coming together:
5/30/2023
Library is more or less in. Shul wise, we're finishing up building mechitzas:
5/28/2023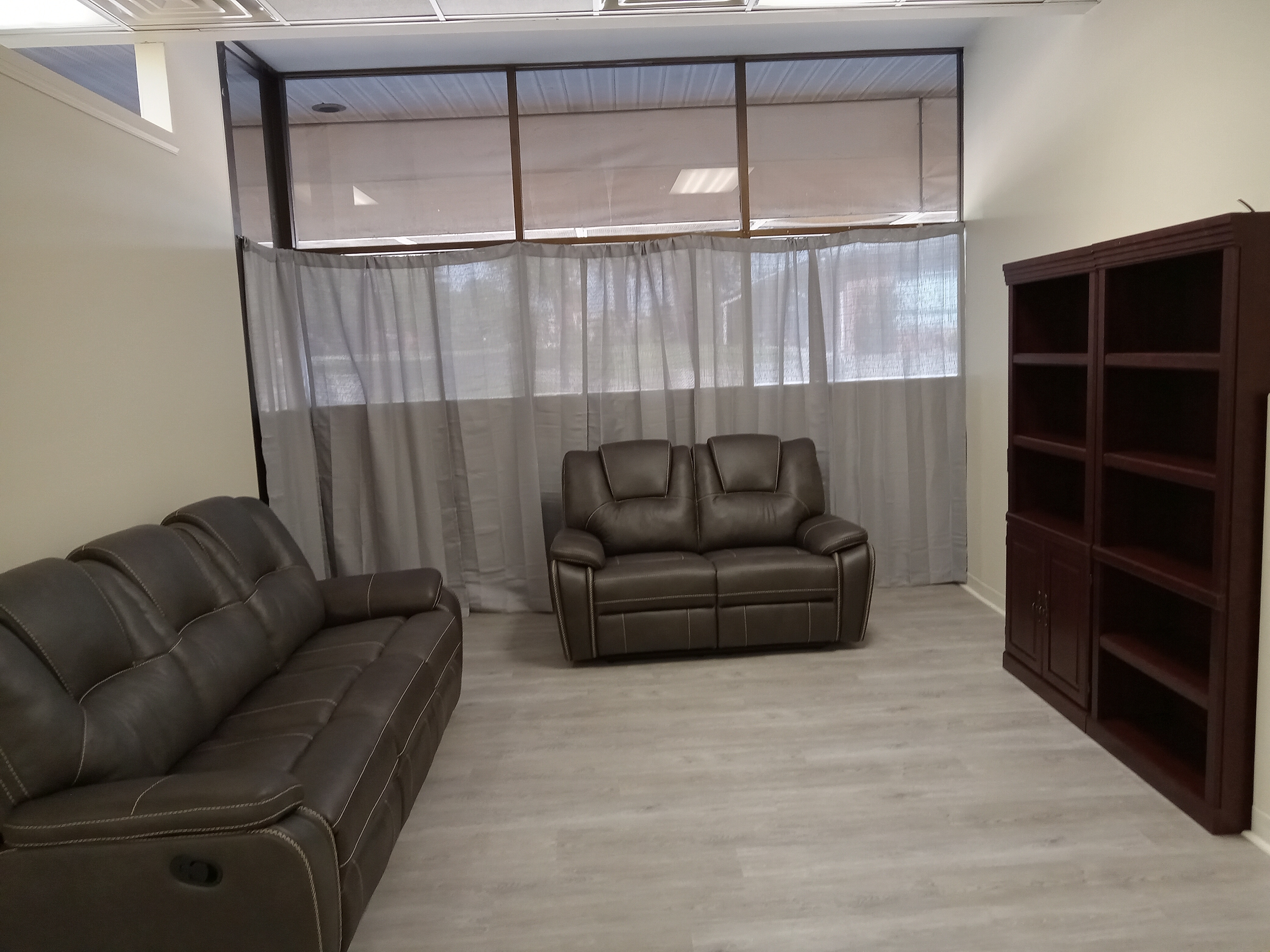 The library is ready to be brought over. Some of the new Siddurim, Chumashim and Tehillims also arrived, we just had to put them into a bookcase we brought over from the basement Shul:
5/25/2023
Couches for the Student Lounge are in. The bookcases should be coming in soon, so we can set up the library next.
5/23/2023
It's been a while since we posted an update, but that doesn't mean that there haven't been any developments! Here's where we're holding:
 Plumbing has been completed, including installation of the handwashing stations
 Street facing windows are covered, providing privacy for those inside while providing Jewish messages for those walking past
 Back view of the Shul (for now people will have to remain standing...did you say you want to sponsor chairs?)
 View as you walk in, currently. 
Coming up over the next few days (besides for Shavuos): furnishing the Student Lounge and Kosher Snack Area, finishing up the Shul supplies.
5/10/2023
Thank you reb Gershon for building the Bimah and Amud! From coming up with the idea, buying supplies, putting everything together and then bringing it into the Shul took just about 72 hours!
We're still looking for nice covers for them, so if you know anyone who'd be interested in dedicating those in honor of a loved one, go to this page and click 'Bimah & Amud covers' in Naming Opportunities.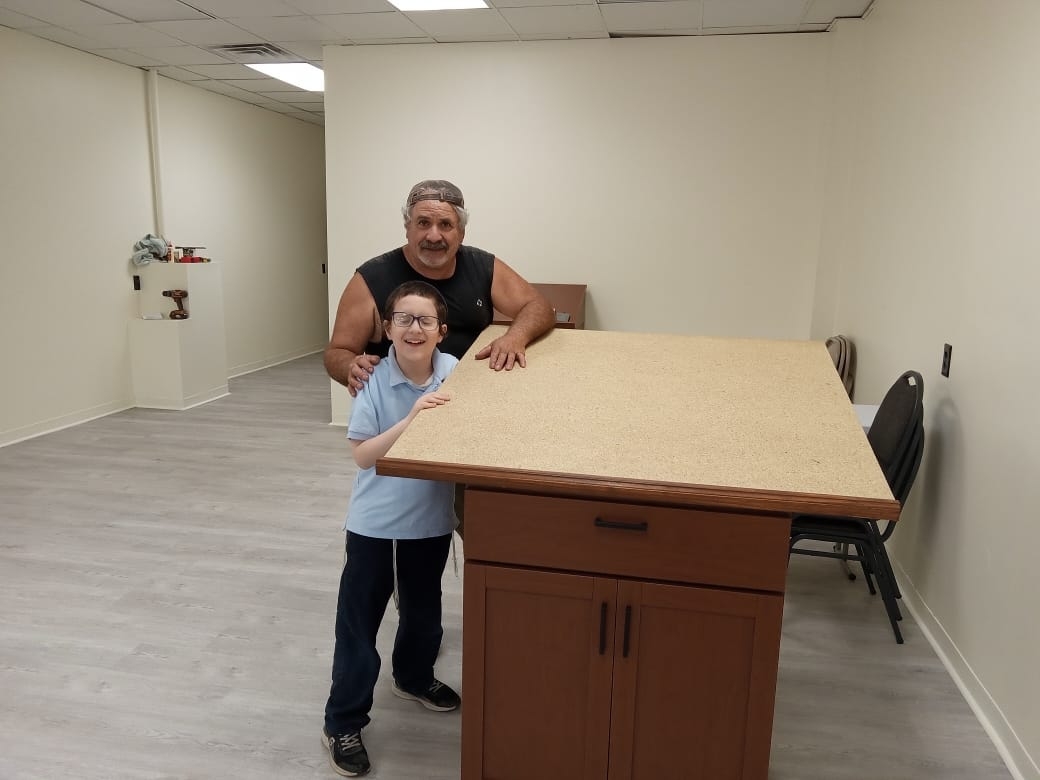 5/8/2023
The new floor has been completed. While we wait for the upcoming appointments on the schedule, we're finalizing the Student Lounge planning. In another exciting update, we spent time with a skilled friend buying supplies for the Bimah and Shtender/Amud. He'll be putting those together. We'll post pictures when they're done!
5/5/2023
New floor is in, just waiting for the finishing touches. Coming up next: the plumber and electrician get to do their parts. And then we're on to furnishing the place....!
5/4/2023
Vestibule is more or less ready, besides for the lock
Washing station waiting for the plumber to connect the faucets to the plumbing line
While we wait for the flooring installation (G‑d willing tomorrow), let's configure maximized seating capabilities of different sized tables:
5/3/2023
Freshly painted walls definitely give the place a whole new look!
Setting up the new kitchen counter, a whole family project: 
5/2/2023
Pre paint work is done, getting ready for the actual paint coat 
5/1/2023
The vestibule is going up. Getting ready to install the washing stations. Prepping the floors for the new floorboards. Walls waiting patiently for their paint coat.
4/30/2023
The 'netilas yadayim' washing stations have been delivered, ready for installation. The first part of the remodeling is slated to start tomorrow G‑d willing! Other supplies are making their way over to Carbondale, with delivery dates set for this week.
4/25/2023 - 4/27/2023
Plumbing meetings, security consultations
4/23/2023
Mechitza discussions, more layout consultations
4/20/2023
Another day with meetings, getting bids and: the new floorboards arrived! Almost ready to start construction
4/19/2023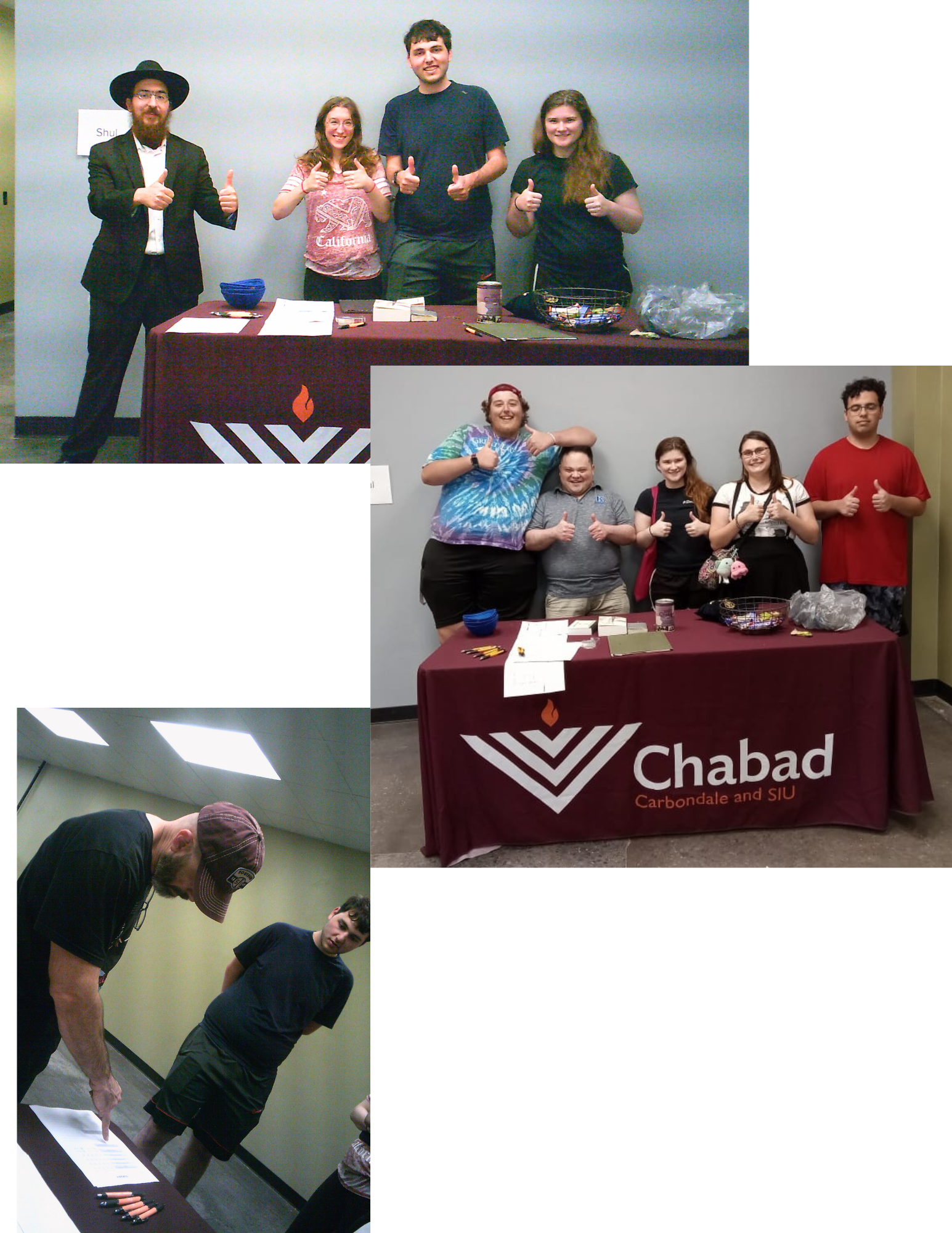 Students and an SIU professor came to give their input into the new building - on location. It's very helpful to hear different opinions on the most wanted features, so we can fine-tune all the accommodations we'll be able to offer.
This was followed by a meeting with a contractor and a friend who's helping with building materials.
4/18/2023
First Mezuzah went up today at the front door
Second Mezuzah was put up by Rabbi Binyomin Scheiman, the longest serving Chabad rabbi in Illinois (and father and grandfather of the Carbondale Scheimans of course). The other mezuzos were placed as well.
4/17/2023 
First things first: Inaugurating the building with the basic Jewish setup: a Tzedaka (charity) box. A Torah (Five Books of Moses). A Tehillim (Book of Psalms). And a Tanya (book of Chabad Chassidic philosophy) , printed in Carbondale!
Temporary sign is up on the front door